10 Uses For Bar Keepers Friend Beyond Cleaning Your Glass Cooktop
10 Uses For Bar Keepers Friend Beyond Cleaning Your Glass Cooktop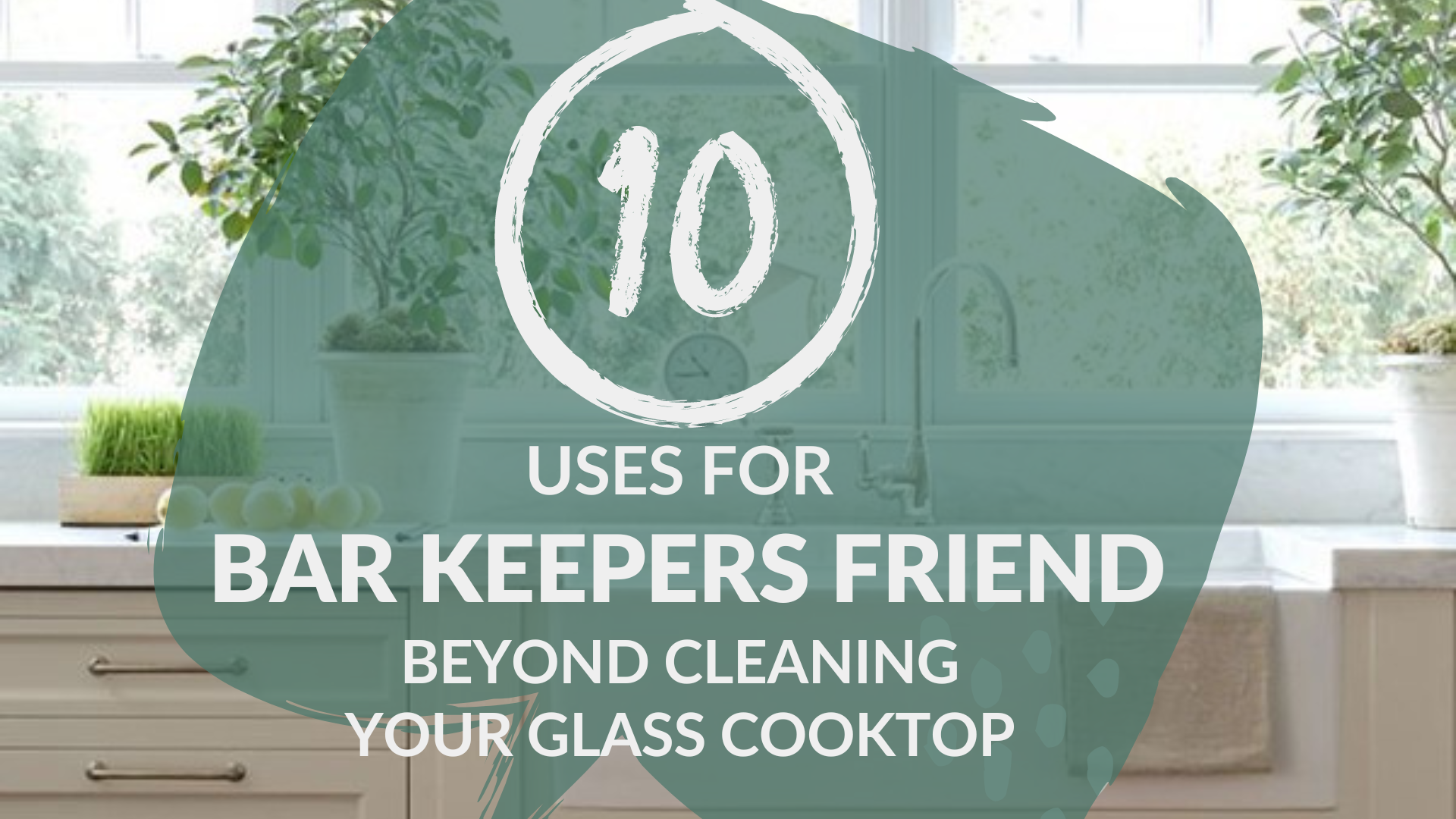 Barkeeper's Friend is a powerful and versatile cleaning product formulated for your stove top that can tackle various cleaning tasks. So whether you're looking for something to clean your cooktop or something to polish up your cutlery, Bar Keepers Friend has you covered. It's an eco-friendly alternative to harsh chemical cleaners, making even the toughest messes sparkle and shine.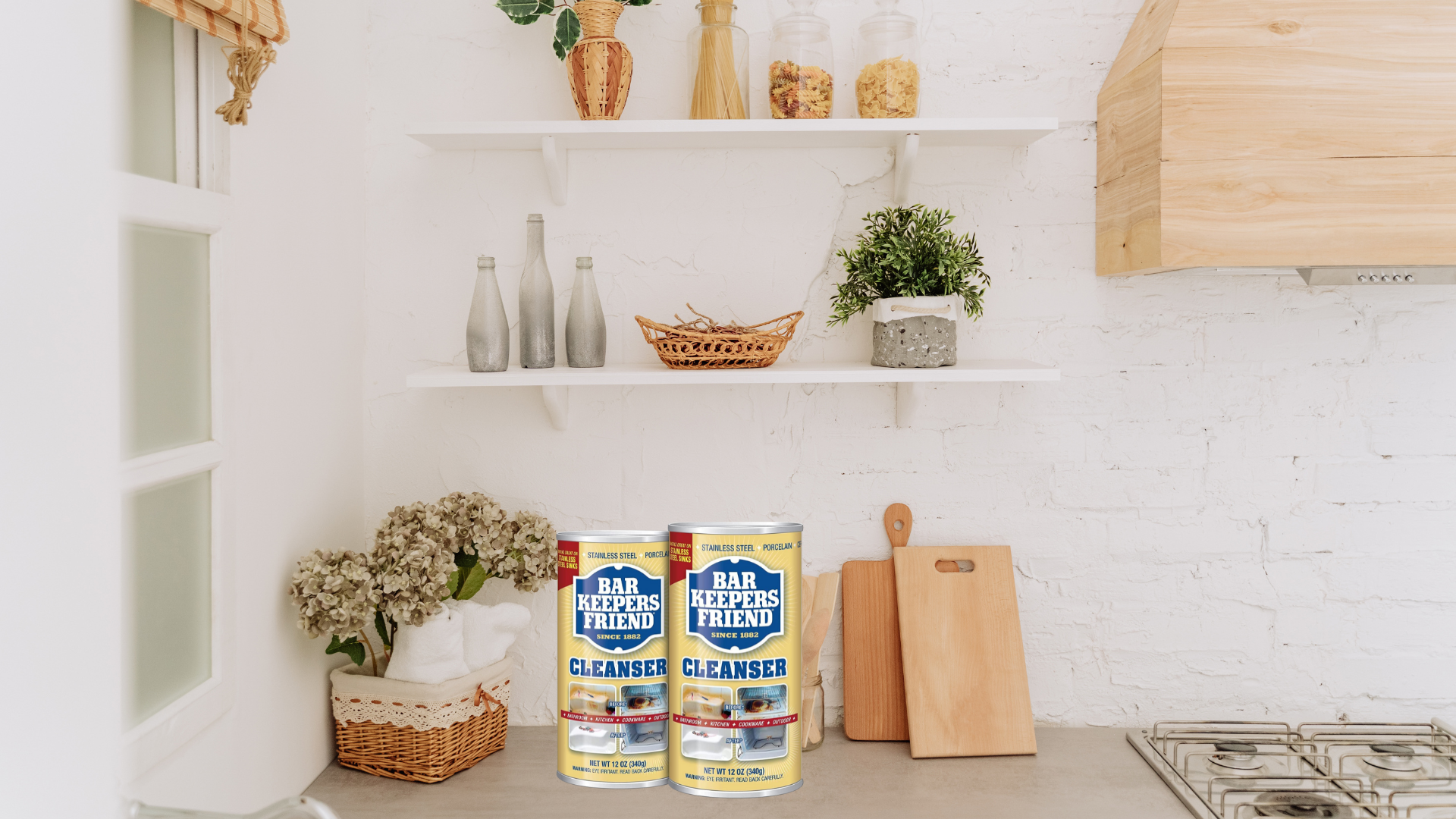 Bar keepers friend glass cooktop cleaner is a gentle formula easy on sensitive skin and will not harm your septic systems. It will keep your glass cooktop or ceramic cooktop sparkling clean. Don't let stovetop debris buildup get out of hand — take care of things by applying some Barkeepers Friend glass cooktop cleaner on your glass stove or ceramic cooking surfaces earlier rather than later; that way, grease, and food bits will dissolve almost instantly without any elbow grease needed at all!
We all know The Barkeeper's Friend is a great product to help remove hardened food particles, debris, cooking oils, stubborn grease, and burn-on food on stainless steel cast iron, glass, or ceramic cooktop. It is also a great stainless steel, metal, and ceramic cookware cleanser. Read on for our list of 10 alternative uses for Bar Keepers Friend, plus some helpful tips on how best to use it!
Bathtub Stain Cleaning
Stained bathtubs are very unsightly. Soft liquid cleaners will only do the job on some of the surfaces. To shine up sinks and bathtubs, apply a small amount of Bar Keepers Friend to a damp cloth, wet sponge, or a scrub daddy and do some light scrubbing. This will leave them with a sparklingly clean surface in no time! For tougher stains, gently applying some pressure while scrubbing should help remove them. Bar Keeper's Friend will help you get rid of hard water mineral deposits on ceramic surfaces.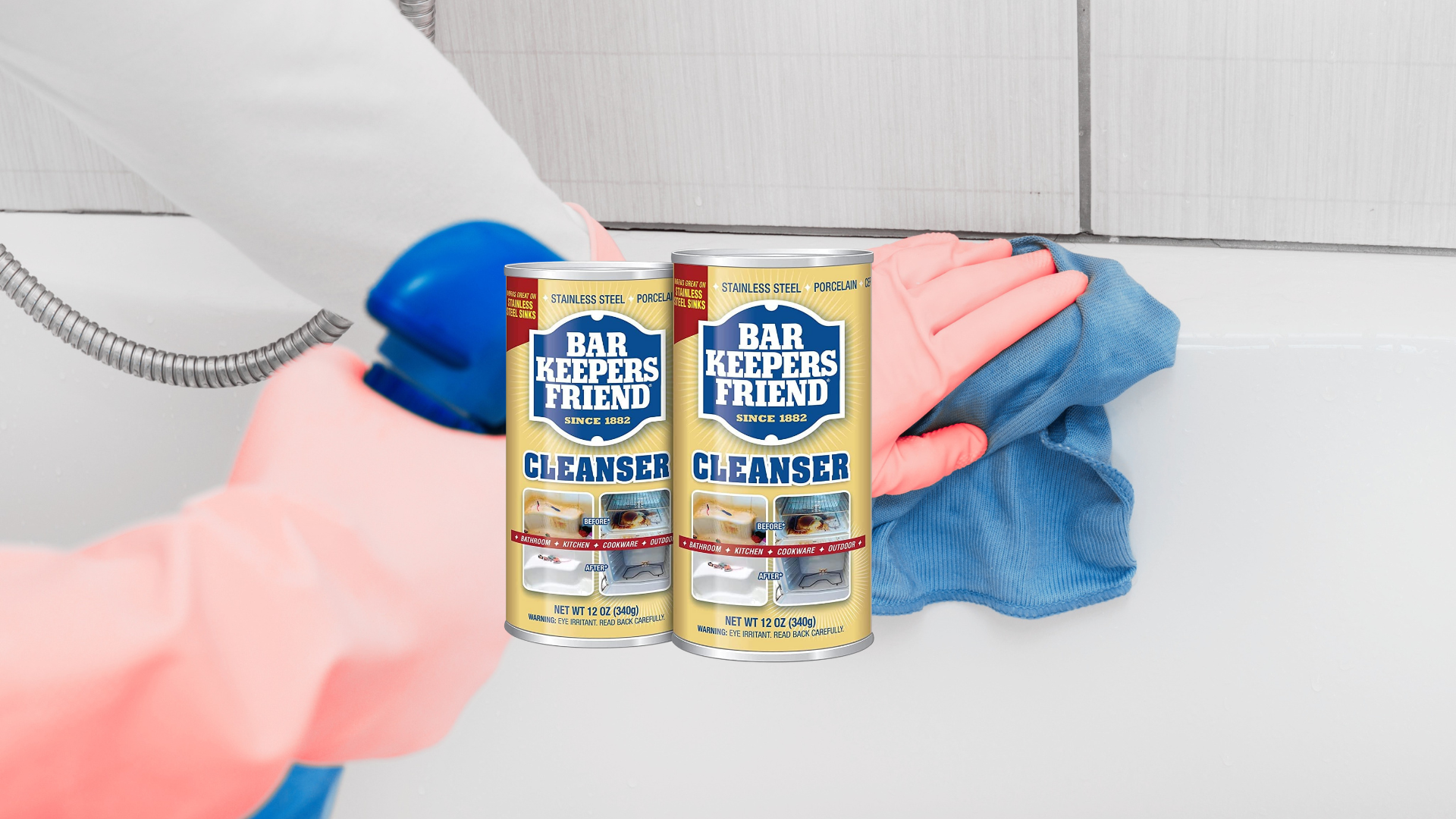 Removing
Metal Tarnish
Give silverware and other cutlery items a good polish with Bar Keepers Friend too; sprinkle some of the powder onto a damp cloth and work it around the item for best results. You can coat the surface and wait a few minutes. You can also use this method on dishes if they have gotten dull over time!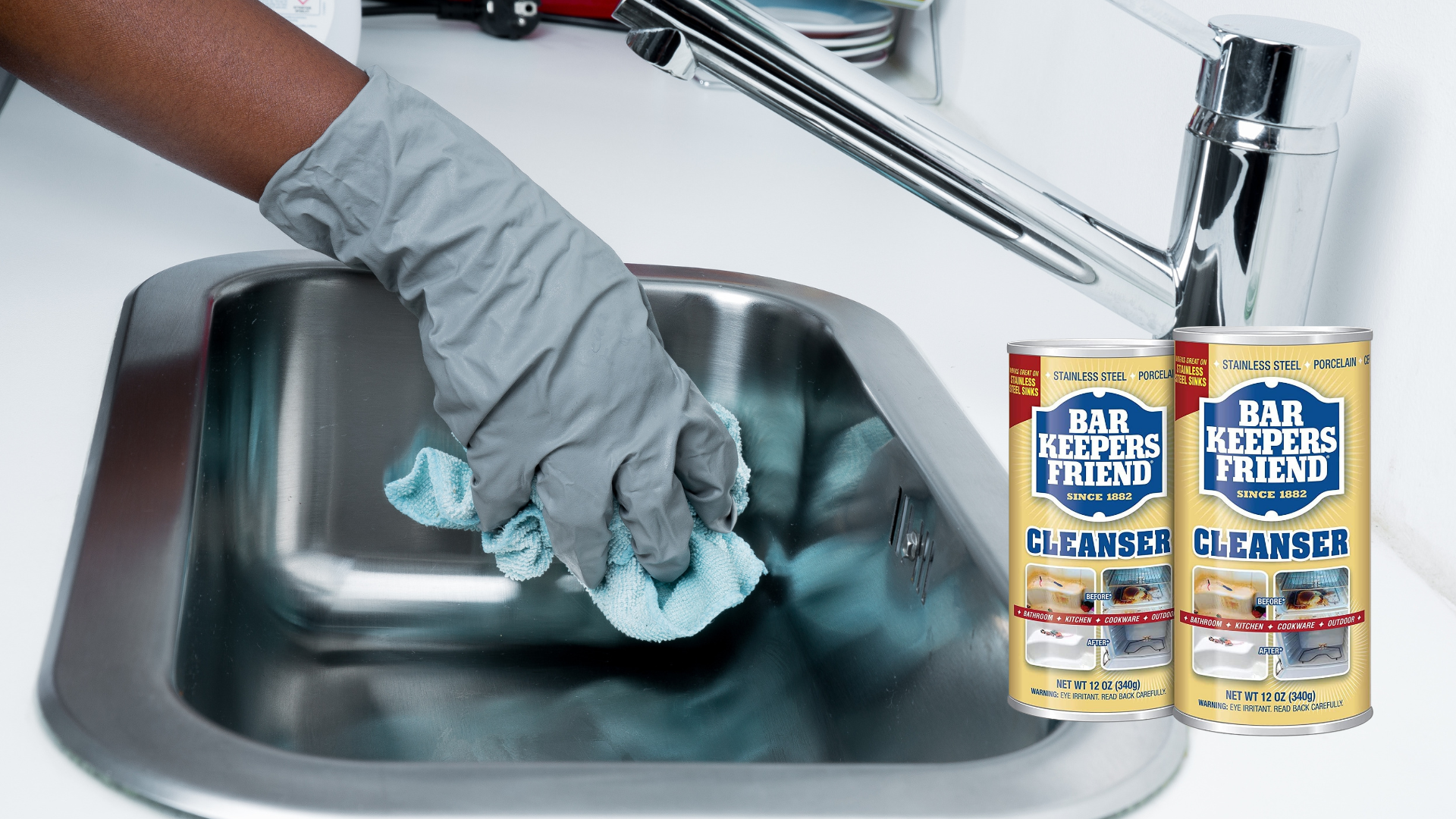 Cleaning Your Coffee Makers
Hard water stains appear in the most inconspicuous area. Your coffee makers, teapots, and other kitchen appliances benefit from regular TLC, too; all you need to do is sprinkle some of the powder on another damp cloth before wiping it down — this way, you'll get sparklingly clean appliances in no time!
Removing Rust
Rust stains can be so challenging to treat. Rust stains don't stand a chance against Bar Keepers Friend; rather than turn to chemical cleaners for help, why not use this miracle powder instead? Not only does it work like a charm, but it also protects your environment in the process — what more could you want? 
Cleaning Outdoor Furniture
Bring outdoor furniture back from the brink by using this cleanser to remove mildew and grass stains from cushions quickly and easily; make sure any dirt is removed first before application so that it doesn't end up sticking stubbornly after drying! Use a damp sponge to rub away the grime!
Restore Ceramic Tiles
Do you feel like your ceramic tiles are less fresh than they used to be? Ceramic tiles look outdated easily, but luckily there's an easy fix: give them new life by scrubbing them with Bar Keeper's Friend cleanser. Wipe dry after for a mirror shine finish. This will restore their gleaming beauty in minutes — no tedious deep cleaning necessary!
Cleaning Those Pesky Grout Lines
Grout lines are so annoying. They get dark easily, and you look at them every day. Keeping grout lines in showers clean isn't always easy, but it can be effortless when using Bar Keepers Friend powder on a damp cloth or soft sponge; brush away any debris without worrying about harsh chemicals coming into contact with skin or surfaces alike!
Shining Car Rims
Car rims require special attention when it comes to upkeep; luckily, all you need for shiny results is some of this miracle powder applied onto a soft brush before giving them an extra-special polish! This is an underused feature of this product for sure. No need for harsh abrasives. It will also clean metal without scratching glossy surfaces. It removes metal tarnish too! You will love your shiny rims!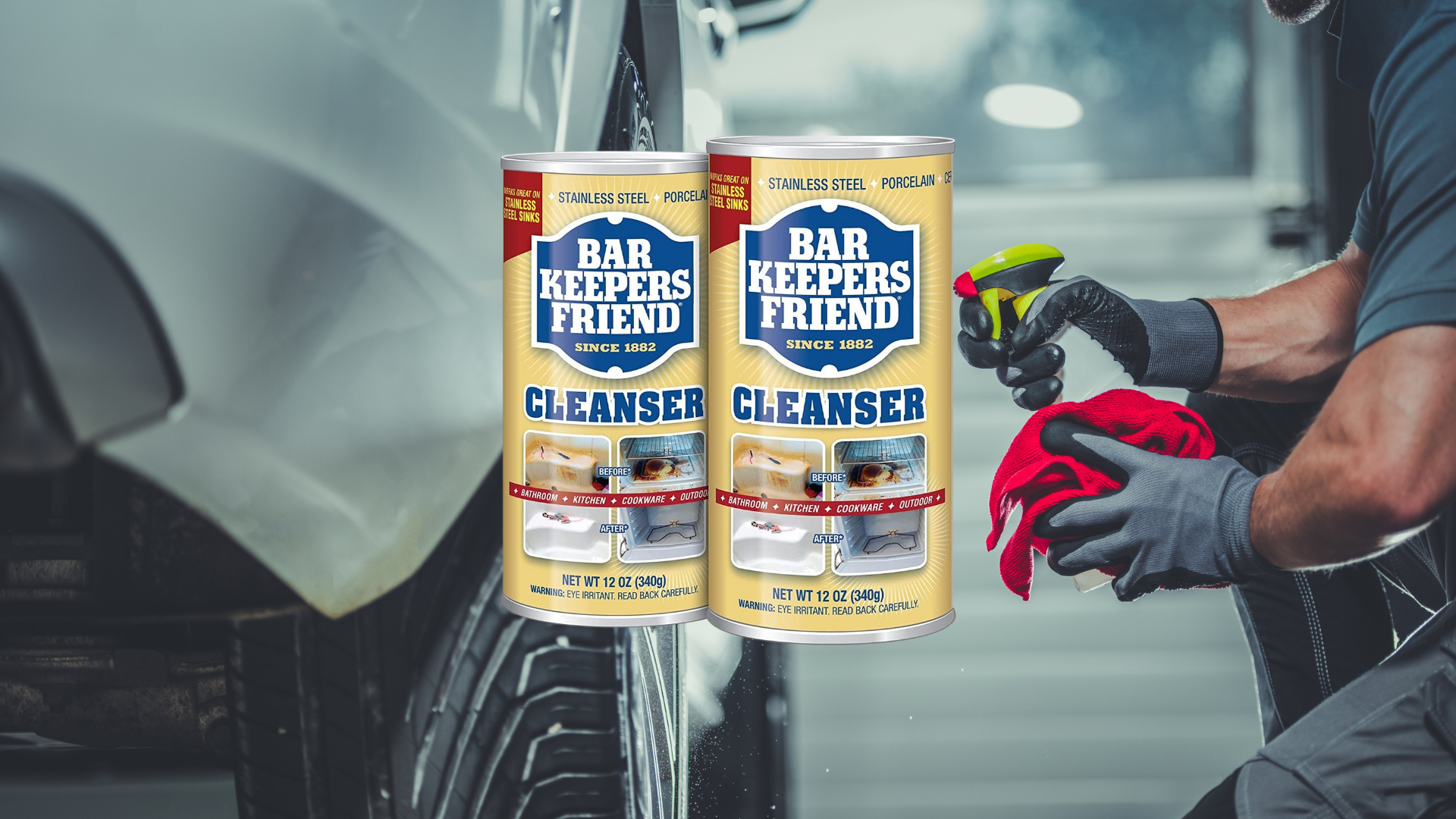 Fireclay farmhouse sinks and porcelain sinks often require a bit of extra care when it comes to cleaning; Bar Keepers Friend cleanser is the perfect product for this task — start by sprinkling some of it on a damp cloth and gently rub off any debris stuck in the sink. It will not damage delicate surfaces! Rub gently with a soft brush to help dislodge tough stains before rinsing with warm water — you'll be delighted with the sparkly results afterward! Don't forget it will also work great on your stainless steel sinks! For brushed surfaces, polish in the direction of brush lines.
Cleaning Your Barbecue Grill
Barbecue Grill Before packing away your barbecue grill for wintertime storage, make sure one last thorough clean has been done using (you guessed it!) Bar Keepers Friend; this way you won't have any surprises come next springtime when barbecues are back in fashion once again!
Who knew this cooktop cleaner was so versatile?
As you can see, there are many different ways in which you can use Bar Keepers Friend cooktop cleaner around the home — from restoring ceramic tiles or polishing car rims (yes, really!) all the way through to tackling tough, stubborn stains without breaking out the chemicals — making it truly one multi-functional product every home needs stocked up on at all times! So why wait?
Get ahead and start today armed with our handy guide of 10 alternative uses for your Bar Keepers Friend cooktop cleanser now so that you'll be ready for whatever tomorrow throws your cooktop cleaner your way!
---
Do you have any questions about uses other than glass ceramic cooking surfaces?
Will Bar Keepers Friend ruin stainless steel?
Use nonabrasive cleaning solutions. BarKeeper Friends Cleansing Spray and Foam is perfect for cleaning stainless steel kitchenware. This product is nonabrasive and does not damage the chrome coating of stainless steel sinks. 
What should you not use Bar Keepers Friend on?
BKF removes hard surface dust and polishes. Use BKF on any surface except hard surfaces such as iron or sand. However, some fan groups used BKF to mirror gold and silver (standard silver is OK, but this method is not recommended).
Will Bar Keepers Friend scratch glass?
Microabrasive glass particles can leave white film temporarily without the glass being rinsed thoroughly. The abrasives in BKF do not scratch glass or porcelain if used correctly.
Is Bar Keepers Friend safe for quartz countertops?
The bars keepers friend is designed to clean and polish granite, marble, or other glass and quartz. This pH balancer will prevent stone imperfections and be gentle enough to use daily.
Can I use Bar Keepers Friend on granite countertops?
You can avoid leaving corrosive marks if used to clean granite or marble countertops that need to be polished. First, make sure your countertop is sealed. 
Warnings: Ingredients Water, Micro-Abrasive Particles, Glycerin, Polymeric Dispersant, Xanthan Gum, Surfactant, Citric Acid, Citrus Fragrance. Safety Info If the product is accidentally ingested, drink milk or water and call a doctor immediately. If the product comes into contact with the eyes, flush with water for 15 minutes. Do not mix the product with other chemicals, including bleach or ammonia. For prolonged use or sensitive skin, handle the product with gloves. Never apply BKF Cooktop Cleaner to a hot surface.